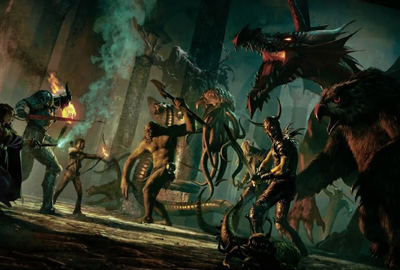 Overview
The Virtual Table RPG portal exists to preserve (or ignite for the first time) the old school tabletop gamer in all of us. The portal was founded in November 2011 by Ardis Foxx and Viv. We are mainly focused on the D&D 4th Edition ruleset, but we also play other systems such as Star Wars Saga Edition. We use the D&D Insider's Virtual Table software to host these games online.
Goals
The motivating factor of the portal is to ensure the best play experience possible for an internet-based tabletop RPG. We hold a high standard of excellence in creating, maintaining and running campaigns. For a detailed look at how we achieve this, please read the VT RPG portal Charter.
Why join?
Our portal offers more than any single gaming group can. We have a dedicated center of leadership, experienced Dungeon Masters, and expertly crafted campaigns. We are driven to make the game a success, and to elevate each member to a place where they can run their own campaign if they so choose. If you need advice on how to play or DM a game, we have the knowledge base to make it great.
No matter what game we're playing, Eternal Vigilance has always been dedicated to maintaining a friendly, mature, active community; We're a home away from home. We're as dedicated to our games as we are to our community, and we believe that if things are built on a solid foundation, they have every chance to exceed expectation. Although we realize that nothing is ever perfect, we know that the ability to change and evolve is important, which is why we are a democratic guild. Everyone has a voice that will be heard. These are the values we bring to tabletop gaming.
Learn more, click here to visit our forums.